Artistori artists receive certificates
Some of our little, junior and young artists have received their certificates back-tracked since 2019 for the many projects they have accomplished. It is a marvelous achievement for them. I had an opportunity to speak to one of them and she told me of how appreciative and grateful for this certificate because for her, being in primary 6 this year, it is the first ever certificate she has ever received for work she accomplished with pride.
自 2019 年以来,我们的小艺术家们、初级艺术家和年轻艺术家们,经过在意言社的长期学习接触不同主题与绘画技巧项目,从而获得意言社颁发的证书 -- 这对他们来说是一个了不起的成就!我有机会采访到其中的一位小画家,今年小学六年级,她告诉我当她收到这份证书时是多么的激动与感恩!因为对她来说,这是她通过自己的努力完成工作而获得的第一份证书。
Artistori believes in every individual with natural abilities to do art. Some may refer art only as a technical skill set on drawing and painting. For us, we look at art as a reflection of life where expression, time management, creativity, ownership, planning, problem-solving, application of skills and observations are realised. With certifications, it not only encourages them but makes them feel appreciated for their commitment to their step by step work every week for just 1 hour 30 minutes to 2 hours. We hope their journey with us helps them realise this famous Confucius quote
"不怕慢,就怕站"
when translated means
"It's better to make slow progress than no progress at all".
意言社相信每个人都有对艺术的追求与理解。有些人可能只将艺术称为绘画或绘画技能。对我们来说,我们将艺术视为生活的真实写照,在其中真实的体现表达自我、时间管理、创造力、所有权、计划、解决问题、技能的应用和观察。通过授权证书,它不仅鼓励每位小画家,更重要的对他们年复一年,每周坚持 2个小时的循序渐进工作的一种认可与赞赏。我们希望每一位成长的小画家们和我们一起创造艺术旅程的过程中慢慢理解孔子的这句名言 "不怕慢,就怕站",意思是"慢慢进步总比没有进步的好"。
Congratulations my fellow Artistori artists!
Keep up the good work!
再次恭喜意言社小艺术家们!
继续加油努力!
A glance at our programme level charts: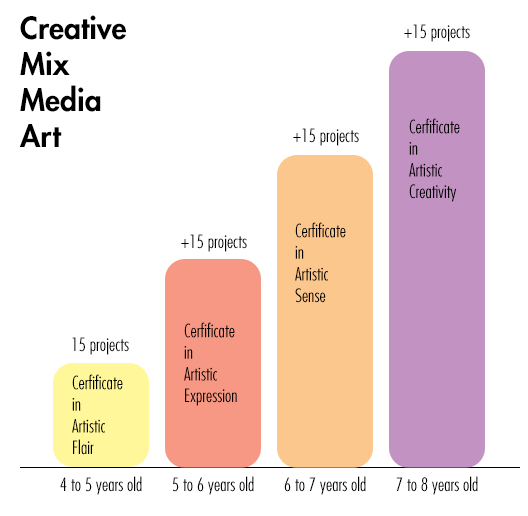 Feel free to drop us a message or call us for further inquiries or in doubt!
Thank you!
Yours Sincerely,
Vernon Chen
Art is a journey, it never stops.
Website: http://www.artistori.com
Facebook: http://www.facebook.com/artistori
Instagram: https://www.instagram.com/artistori_school
WeChat ID: Artistori
意言社 Artistori
用艺术表达语言,让语言丰富艺术
Your Story, Your Art